[vc_row][vc_column][vc_column_text]'When the going gets tough, the tough get going!'
This famous English expression distinctly defines a class of people who can handle stress and conflict exceptionally well, with a postive mindset.  Contrary to popular belief, anxiety is actually absolutely necessary for each one of us, as the human brain is unable to function without a certain level of stress. While there may be varied degrees of stress among individuals, somehow, successful people learn to maintain and manage their stress and anxiety just within the required optimal levels, in order to achieve top performance.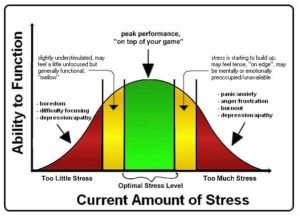 These successful individuals are determined to take the bumpy road by redoubling their efforts in order to overcome a stressful situation. Especially in the corporate world, such people deal with conflict in a constructive way by getting to the root of the issue, invigorating their team to perform to the best of their abilities, deriving the best outcomes and creating an environment of openness as part of the company's culture. They demonstrate a conduct that will make a company more productive and profitable, even in the face of critical failures and overwhelming odds. Weschool has identified some tools used by these individuals to overcome adversity and manage stress better.
Acknowledge the present and the future
Successful people make it a habit as well as a priority to be grateful for what they have. These people think of the bigger picture and remind themselves of what is important, so as to keep their perspective in the positive realm.
These individuals maintain a positive outlook so as to remain happier and become more productive. This attitude brings about favorable results, as their thoughts have the ability to transform energy into reality. They use language that evoke strength and success and practice positive affirmations. Successful people visualize what they wish to achieve and draw an immense amount of inspiration from the same.
Successful individuals consider themselves as the most important asset and they prioritize healthy habits. They abstain from caffeine and alcohol, exercise regularly, eat healthy, get enough sleep and periodically switch off from technology. They strive to find balance to help moderate stress.
It is close to impossible to remember to smile during a stressful situation. However, smiling is the simplest, easiest and fastest way to deal with stress. At a stressful meeting a smile induces the other person to reciprocate, thereby bringing about a positive feedback cycle and acts as a great tension release.
Prin. L.N. Welingkar Institute of Management Development and Research offer individuals a powerful integration of knowledge, experience and resources. Our programs help develop and transform the organization by directing skilled leaders to achieve strategic business initiatives that require new ideas, methods and techniques allowing them to handle workplace stress with ease. Visit our website www.welingkarexedp.com to know more about our courses.[/vc_column_text][/vc_column][/vc_row]