Marketing skills every Marketer need
Do you want to become an efficient Marketer? Curious to know what takes to become one?
If yes, you are definitely going to benefit through this piece of information.
We live in a fast-paced world. The world is changing at the speed of light.
And so is the world of Marketing. It is evolving at a high speed. So how do we ensure that we are picking
up the pace? Well, the easiest way is to work towards building the foundation right and that is exactly
where, the role of emerging skills comes into play.
Let's get into the depth of the skills one needs to master to become a successful Marketing professional:
All you require is an understanding of MARKET. You must be wondering, what is new in that? Well,
When I say market – not just the market in which one is operating but:
1. Master Storytelling
2. Analytics
3. Research
4. Knowledge about Customers
5. Enthusiam
6. Time Management
1. Master Storytelling:
As per a study done by LinkedIn – It was found that close to 8% of all Marketers on the platform have
Storytelling listed as skill on their profile.
We all have grown up listening to stories from our grandmother. Even with those sleepy eyes, we could
not stop ourselves from asking our granny – what next, and then? Well, this is the power of storytelling;
it has the ability to bind the audience in an impactful way. This is exactly what a Marketer can do.
A Marketer must have the ability to use data in a way wherein the data is no longer just plain numbers
but actually carved into genuine stories which make sense and contribute to the value proposition of the
brand. This is can be done via online content creation, book marketing, etc. After all, the idea is to make
the content relatable and emotionally compelling.
2. Analytics:
Data Analysis is a critical Marketing skill in the age of Marketing Automation.
It is important to ask the right questions as only right questions can yield right responses i.e. data, which
is objective in nature and could potentially be utilized to derive insights, which would support business
decisions.
Not just data capturing but also data visualization has an equally important role i.e. the ability to
represent the data in a crisp and comprehendible manner. Tools like Power BI, Tableau can be used to
display data in the form of concise charts, diagrams, etc.
3. Research:
A huge part of marketing is research.
The ability to research, strategize and effectively plan campaigns is a Marketing skill one needs in order
to achieve goals.
4. Knowledge about Customers:
It is imperative to understand what a customer wants and the emotional value that a customer
associates with the product/service. Once these basics are in place, the details wr.t. which platform
needs to be used to market, what content helps increase the outreach can be accordingly thought
through. Some basic questions that a Marketer must ask for better understanding of the customer:
A. What are my target audience's value?
B. What is the background of my target audience?
C. What problem is my product/service trying to solve?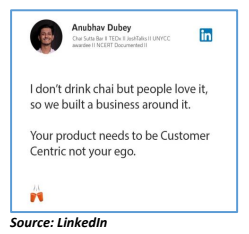 5. Enthusiasm:
The Marketer must be enthusiast about the product/service he is advocating for. If he/she himself does
not possess the skill to demonstrate enthusiasm about the same, the customer would never be
delighted or display an interest for it.
6. Time Management:
The role of a Marketer is diverse and gets to wear multiple hats but at the same time, demands a lot of
multitasking. To put in simple terms, he/she needs to juggle several balls in the air and none can be
dropped. Hence, Time Management as a skill plays an extremely vital role. The ability to manage hectic
schedules be systematic when it comes keeping a record of tasks and ensuring that tight deadlines are
met.
To build these skills is no rocket science; simple daily habits can lead to enrichment. Self-learning through
reading readily available books on Marketing, joining online knowledge sharing groups and pursuing
certifications could be some of the starting points.
Welingkar Institute of Management Development & Research popularly known as Weschool, offers the Best Executive Education Programmes in Bangalore, India. Enroll Now!